Top 15  Funniest SEO Memes For Digital Marketers
Every digital marketer is looking for that SEO trick that will improve his rankings.
From local SEO, on-page SEO, technical SEO, grey hat SEO, and even black hat SEO.
It's an uphill struggle to achieve SEO – the stake in your company's online presence is high – the web content is the best, a Yada.
Some have even subscribed and turned notifications on the best YouTube channels to learn SEO, just to be updated. 
We should have fun in this discussion. So we decided to share some favourite SEO memes which are all very good for digital marketers and content marketers.
The SEO Waiting Game
Sometimes the effort required to rank number one on google can be underestimated. From keyword research, creating great content that meets search intent, optimizing the content through on-page SEO, and creating backlinks are not effortless tasks. When you achieve it, it's worth letting the world know.
However, don't forget to keep working hard to stay at the top!
SEO interns vs Google algorithm updates
Nothing is scary to an SEO intern than being given an already ranking website to increase its organic traffic during a google update.
Can't stop, won't stop
No SEO agency wants to realize all their efforts are not working. They'll blame many things from google updates, poor content, or sometimes the client. It's no longer business, it is personal to them. this SEO meme describes every aspect of dropped rankings.
Never have I ever
Do you do blackhat SEO? This is a question no SEO expert will try to answer, especially if they're a member of the black hat world SEO forum.
One does not simply
Content and SEO are not always the answer to every question on rankings. You can even rank any poorly written content. For instance, Kyle Roofe ranked the "LOREN IPSUM" text on page 1 of SERP.
Going, Gone
Google algorithm updates are always expected to be a thorn to any blogger, SEO expert, and digital marketers. They always claim several victims.
Difficult indeed!
Have you ever tried explaining what SEO is to a client?
Search engine optimization, or SEO, is the process of optimizing a website for Google search with the goal of earning higher web traffic levels and improving the visibility of the site.
When done correctly, SEO can have a significant impact on a website's organic search results, driving more targeted traffic and boosting leads and sales.
However, explaining SEO to clients can be difficult.
Many clients don't understand the basics of how Google search works, so trying to explain how SEO can improve their website's visibility can be challenging.
In order to explain SEO to clients in a way that they will understand, you'll need to explain it in simple easy-to-understand language.
Keywords research is the foundation of SEO
People often think that they only need to include keywords in their blog posts if they are trying to rank for those keywords.
While including keywords can help you rank higher, it is not the only reason to include them. Keywords also help your readers understand what your post is about.
When you include keywords in your posts, you are telling your readers what the post is about.
This makes it easier for them to understand and remember what they have read. Including keywords can help your posts show up in search results when people are looking for information on those topics.
For targeted traffic
There are several reasons why you need search engine optimization (SEO).
The most important reason is that it can help you attract more visitors to your website. By optimizing your website for the search engines, you can make sure that your site appears as high up as possible in the search engine results pages (SERPs).
This means that more people will see your website and be likely to visit it.
SEO can also help to improve the quality of the traffic that comes to your website. The people who visit your website as a result of your SEO efforts are more likely to be interested in what you offer.
Before you steal them from your competitors…
Featured snippets, also known as answer boxes, are a type of rich result that appears at the top of the search engine results page.
They give users a quick answer to their questions, and they can be generated from either a website or a Google Knowledge Graph card.
There are three types of featured snippets: paragraph, list, and table.
Paragraph snippets are the most common, and they usually contain a short answer to a question along with a link to the full article. List snippets feature a list of answers to a question, and table snippets display data in a tabular format.
That's the reason we have Google disavow tool
bought 1000+ backlinks from a Fiverr seller?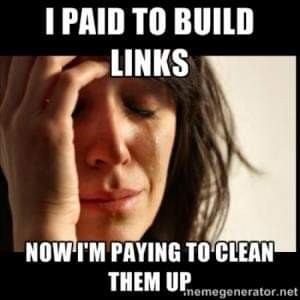 Google Penguin is a filter that penalizes websites for spammy backlinks. If you have a lot of spammy backlinks, Google may penalize your website and reduce your search engine ranking.
The best way to avoid being penalized by Google Penguin is to disavow any links that are considered spammy. You can use the disavow tool in Google Webmaster Tools to disavow any links that you don't want indexed by Google.
The only way to avoid Google penalties for having duplicate content
Duplicate content is a common problem on the web.
When two or more pages have the same or very similar content, it can be difficult for search engines to determine which page is the most relevant for a particular search query.
This can lead to lower rankings for all the pages involved, and can also result in lost traffic and revenue.
One way to avoid these problems is to use canonical URLs.
Canonical URLs are a way of indicating to search engines which page is the original, or "canonical", version of a particular website. By using canonical URLs, you can help ensure that all of your target audience get the best content.
Have linkable assets
Link building is one of the most difficult aspects of SEO, and it becomes even more difficult when you have poor content.
When you have great content, people will naturally want to link to it from their own websites. But when your content is poor, people will be less likely to want to link to it.
This makes it much more difficult to build up a strong link profile, and can ultimately hurt your website's ranking in search engines.
Responsible or responsive website?
In an age when people are glued to their phones, it's more important than ever to have a website that looks good and is easy to use on any device.
A responsive website automatically adjusts to the size of the screen it's being viewed on, making it easy for people to navigate no matter what they're using.
A responsive website is essential for companies that want to reach customers on multiple platforms. It's also important for SEO since Google now ranks mobile-friendly websites higher in search results.